SOUTHVILLE- ALOGUINSAN, CEBU
𝐒𝐎𝐎𝐍 𝐭𝐨 𝐑𝐈𝐒𝐄!!!
𝐋𝐎𝐂𝐀𝐓𝐈𝐎𝐍 : 𝐊𝐚𝐰𝐚𝐬𝐚𝐧, 𝐀𝐥𝐨𝐠𝐮𝐢𝐧𝐬𝐚𝐧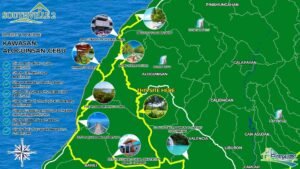 𝐑𝐄𝐒𝚰𝐃𝐄𝐍𝐓𝚰𝐀𝐋 𝐒𝐔𝐁𝐃𝚰𝐕𝚰𝐃𝐄𝐃 𝐀𝐍𝐃 𝐇𝐎𝐔𝐒𝐄 & 𝐋𝐎𝐓𝐒 𝐀𝐋𝐎𝐍𝐆 𝐍𝐀𝐓𝚰𝐎𝐍𝐀𝐋 𝐇𝚰𝐆𝐇𝐖𝐀𝐘.
𝐇𝐔𝐑𝐑𝐘 𝐀𝐍𝐃 𝐆𝐄𝐓 𝐓𝐇𝐄 𝐂𝐇𝐀𝐍𝐂𝐄 𝐅𝐎𝐑 𝐀 𝐆𝐑𝐄𝐀𝐓 𝐃𝐄𝐀𝐋 𝐀𝐯𝐚𝐢𝐥 𝐍𝐨𝐰
 #𝐈𝐧𝐯𝐞𝐬𝐭𝐰𝐢𝐬𝐞𝐥𝐲 #𝐈𝐧𝐯𝐞𝐬𝐭𝐒𝐨𝐮𝐭𝐡𝐏𝐫𝐨𝐩𝐞𝐫𝐭𝐢𝐞𝐬
𝐀𝐌𝐄𝐍𝐈𝐓𝐈𝐄𝐒 :
𝐄𝐍𝐓𝐑𝐀𝐍𝐂𝐄 𝐆𝐚𝐭𝐞
𝐏𝐞𝐫𝐢𝐦𝐞𝐭𝐞𝐫 𝐅𝐞𝐧𝐜𝐞
Basketball Court
Clubhouse
Parks and Playground
Drainage System
Concrete Roads
Water and Electric Line
𝐇𝐨𝐮𝐬𝐞 𝐅𝐞𝐚𝐭𝐮𝐫𝐞𝐬 
𝟏 𝐒𝐭𝐨𝐫𝐞𝐲 𝐓𝐨𝐰𝐧𝐡𝐨𝐮𝐬𝐞
𝐃𝐞𝐥𝐢𝐯𝐞𝐫𝐚𝐛𝐥𝐞 𝑺𝒆𝒎𝒊 𝑩𝒂𝒓𝒆 𝑼𝒏𝒊𝒕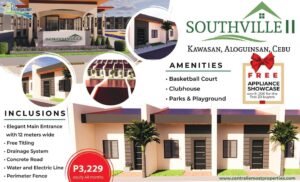 𝐇𝐨𝐮𝐬𝐞 𝐏𝐫𝐨𝐯𝐢𝐬𝐢𝐨𝐧
 𝐋𝐢𝐯𝐢𝐧𝐠 𝐑𝐨𝐨𝐦
 𝐃𝐢𝐧𝐢𝐧𝐠 𝐑𝐨𝐨𝐦
 𝐊𝐢𝐭𝐜𝐡𝐞𝐧 𝐰𝐢𝐭𝐡 𝐂𝐨𝐮𝐧𝐭𝐞𝐫 𝐓𝐨𝐩
 𝟏-𝟐 𝐁𝐞𝐝𝐫𝐨𝐨𝐦
 𝟏 𝐭𝐨𝐢𝐥𝐞𝐭 𝐚𝐧𝐝 𝐛𝐚𝐭𝐡 𝐰𝐢𝐭𝐡 𝐭𝐢𝐥𝐞𝐬
 𝐀 𝐬𝐢𝐳𝐚𝐛𝐥𝐞 𝐬𝐞𝐫𝐯𝐢𝐜𝐞 𝐚𝐫𝐞𝐚 𝐋𝐨𝐭 𝐚𝐫𝐞𝐚: 𝟒𝟎-𝟓𝟎𝐬𝐪𝐦
𝐅𝐥𝐨𝐨𝐫 𝐚𝐫𝐞𝐚: 𝟐𝟒𝐬𝐪𝐦
Total Contract Price: 650,0000
20%  Down payment/Equity: 170,000
Less Reservation Fee: 15,000
NET Down payment: 155,000
Monthly Equity: 4,305.56  in 36 months
Monthly Equity: 3,229.17  in 48 months
80% Remaining Balance thru Bank Financing OR CASH
Loanable Amount: 480,000
THRU PAG-IBIG FINANCING 30/70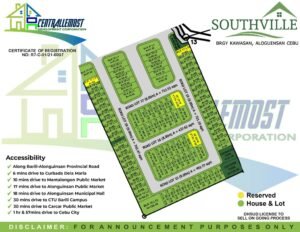 AmanciaLand ReaUlty a Real Estate Firm which caters your Real Estate need..
HOME is WHERE our STORY BEGINS….
How to start??

 Feel free to ask more about this project..
 Gildin D. Pagdato
Real Estate Broker
PRC lic. # 0020705
 TNT Cell: (+63)912-0824-739
DITO Cell: (+63)991-2224-815
Email

: gildin.pagdato2019@gmail.com


FB

:https://www.facebook.com/gildin.pagdato.9/


Website

: https://pagdatoproperties.amancialandrealty.com/
Supervising Real Estate Broker
Glenn S. Amancia  PRC lic. # 0020705
Our team of Amancialand Realty helps you process your housing loan, MECO/VECO & WATER Connections..
View all my Listings of House and Lot  for sale in Cebu City, CEBU SOUTH PROJECTS  Talisay City, Minglanilla, Naga Cebu, San Fernando, Carcar City and Toledo City, Argao,
CEBU NORTH PROJECTS Mandaue City, Consolacion, Liloan, Compostela, and Lapu-lapu City.